A murderously sarcastic manual on the primitive accumulation of capital in the '90s Russia, filmed by survivors for those who missed everything.
A small provincial town is divided between a drug lord Sergei Mikhalych and a police lieutenant Voronov leading a triple game. The squad of flunkies working for the criminal boss is busy with its routine business: it insistently offers "protection", framing others, exchanging money for narcotics, and spending their free time between striptease bars and billiard halls. The mechanism fails when they are conned over a suitcase of drugs they received after a tip off from Voronov. Mikhalych gives the command to "lean on the cop". From this moment, the notorious blind man's bluff game for adults will begin. One only survives by accident.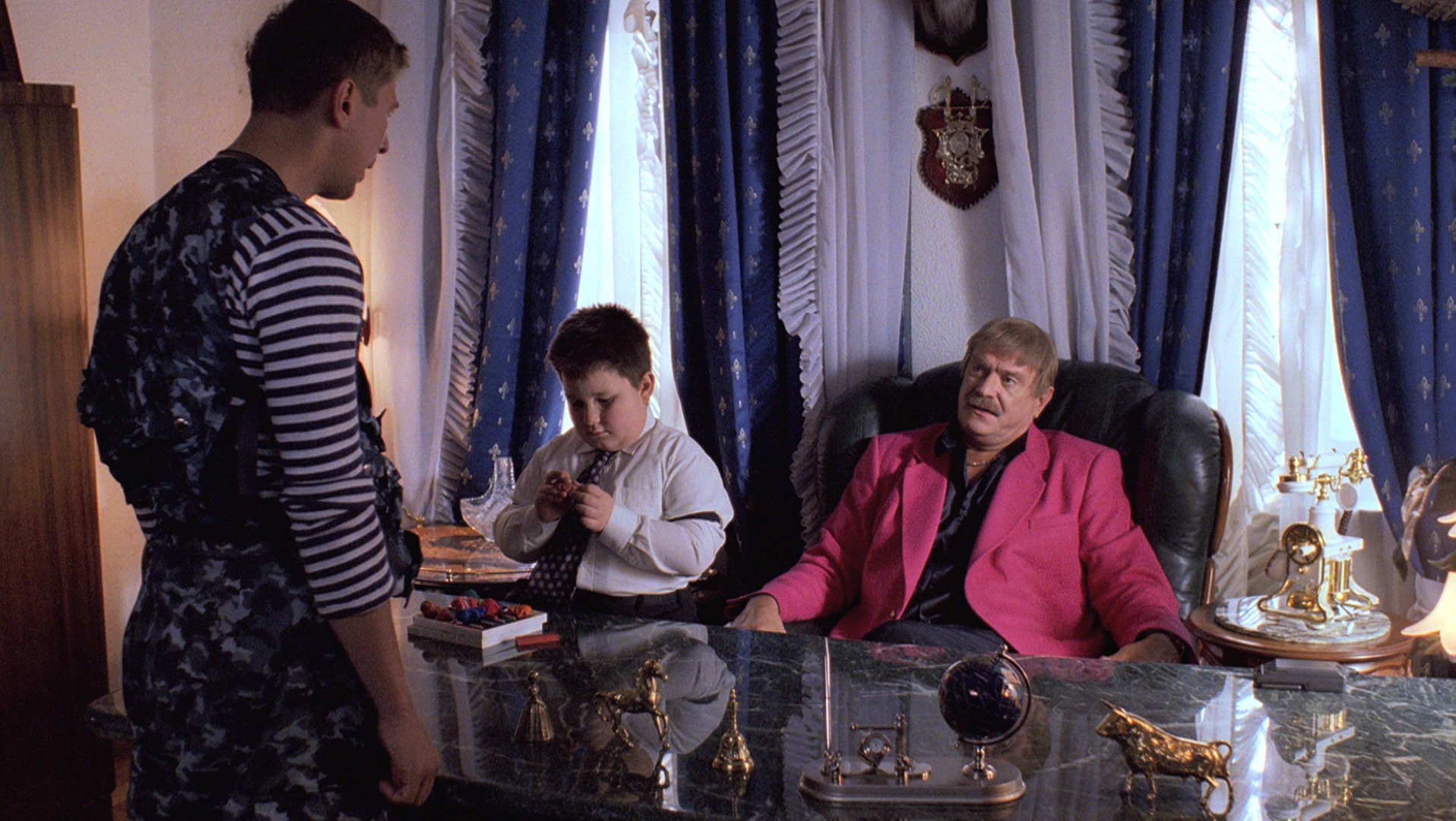 In "Dead Man's Bluff" lawlessness has acquired an equivalent form, which during the 1990s no one had managed to take such a rigidly auteur-like path and to direct so subtly.
The beginning of the noughties was a turning point for Alexey Balabanov: in 2000, while on the set, he survived a car accident that claimed the life of actress Tuyara Svinoboeva, and two years later, the actor-mascot and symbol of his generation, Sergey Bodrov Jr. died. The era of Brother is over, but the baggage of the nineties is still topical. Dead Man's Bluff, which became the director's first project after a break (and the first project where Balabanov didn't use his own script), is absolutely Balabanovian cinema: exaggeratedly simple and effective moves, a soundtrack turned up to the maximum and a hard-hitting cast, which roll off the tongue like a list of luxury liners.
The bearer of a square jaw, a candidate for the Olympic team for synchronised shooting with two hands, a music lover and a passionate Westerniser Simon, who loves to torture to the accompaniment of the music of the Sparks, performed by Dmitry Dyuzhev (the only memorable actor from the Brigade TV series). A cowardly double-dealer, the head of his office, who loves to earn extra money and rip others off on the sly (Viktor Sukhorukov). The slow-witted killer "we- must-have-got-the-wrong-flat" (Sergey Makovetsky). And, of course, Sergey Mikhalych, always clowning around, the crimson-plated role of Nikita Mikhalkov. It seems that without the Dead Man's Bluff there would be neither Mikhalkov's political "exorcist" show BesogonTV nor Dead Souls. But what is really poignant is something else: when his characters had already quit the game of "dead man's bluff" and, on the advice of Kaban (the Boar), headed to the capital, Balabanov moved in the opposite direction, continuing along his own path.
Dead Man's Bluff
2005, Aleksei Balabanov, Russia
105 mins., Rus., DCP, 16+
Starring Alexey Panin, Dmitry Dyuzhev, Nikita Mikhalkov