A project creating conditions for being in tune with your feelings and forming new ways of interacting with the world around you.
The project Sensitive Matter is an attempt to create conditions for tuning and readjusting the apparatus of the senses, so that visitors at GES-2 have an opportunity to get back a sense of awareness of activities that are constantly repeated. For this purpose, a Sensory Experience Room has been created with a special interactive environment where sounds, smells and colours become a tool for acquiring a new sensory experience. The space was developed by a team from Playtronica Studios, the artist Elizaveta Moskvina and a number of experts in various fields: synesthesia researcher Anton Dorso, neuroscientist Anton Varlamov, sensory integration specialist Maria Shapiro and art therapist Anna She. The olfactory artists Maria Golovina and Pavel Nikandrov (Holynose) worked with the sense of smells for the project.
The idea of the project is based on the mechanism of sensory integration — an unconscious process in the human body in the course of which the nervous system interprets information received from its sensory organs. The term is also given to therapeutic techniques to help people with different learning styles to form their own picture of the world, concentrate on a specific action, and learn to accurately identify an irritant in the external environment and be able to control their reaction to it.
It seemed important to us to "warm up" the visitor before viewing contemporary art in the space of the GES-2 House of Culture, just like football players are warmed up before entering the field. Meditation in the dark, exercises for a better sense of your body and position in space, training in touch and perception of smells, sounds and light — the Sensory Experience Room is designed to do just that. Here viewers can create sequences of stimuli, combinations of sounds, light impulses and tactile sensations. It is a synthesizer on which synaesthetic studies can be performed, intended to be perceived simultaneously by different senses. I hope Kandinsky and Scriabin would have been pleased!
An attempt to use all the human sensory organs and sensory systems is connected with the search for the broadest possible field of exposure. This is the path that contemporary art follows: from the picture surface to the immersive experience of total installations or performances turning a viewer into an accomplice. The expansion of the boundaries of art entails expanding the boundaries of feeling and partly coincides with another subject of the project team's research — synaesthesia, a phenomenon of perception in which one sensation leads to an uncontrolled response in another sensory system, not directly related to it.
Aesthetic (or literally sensory) experience, is based, among other things, on impulses we receive from our motor system, as well as from our sensations and perception. In this project, we explore sensory differentiation as an agent of influence on the human ability to make aesthetic judgments. We want to turn to non-verbal and, perhaps, even non-verbalizable experience we receive through sensory channels.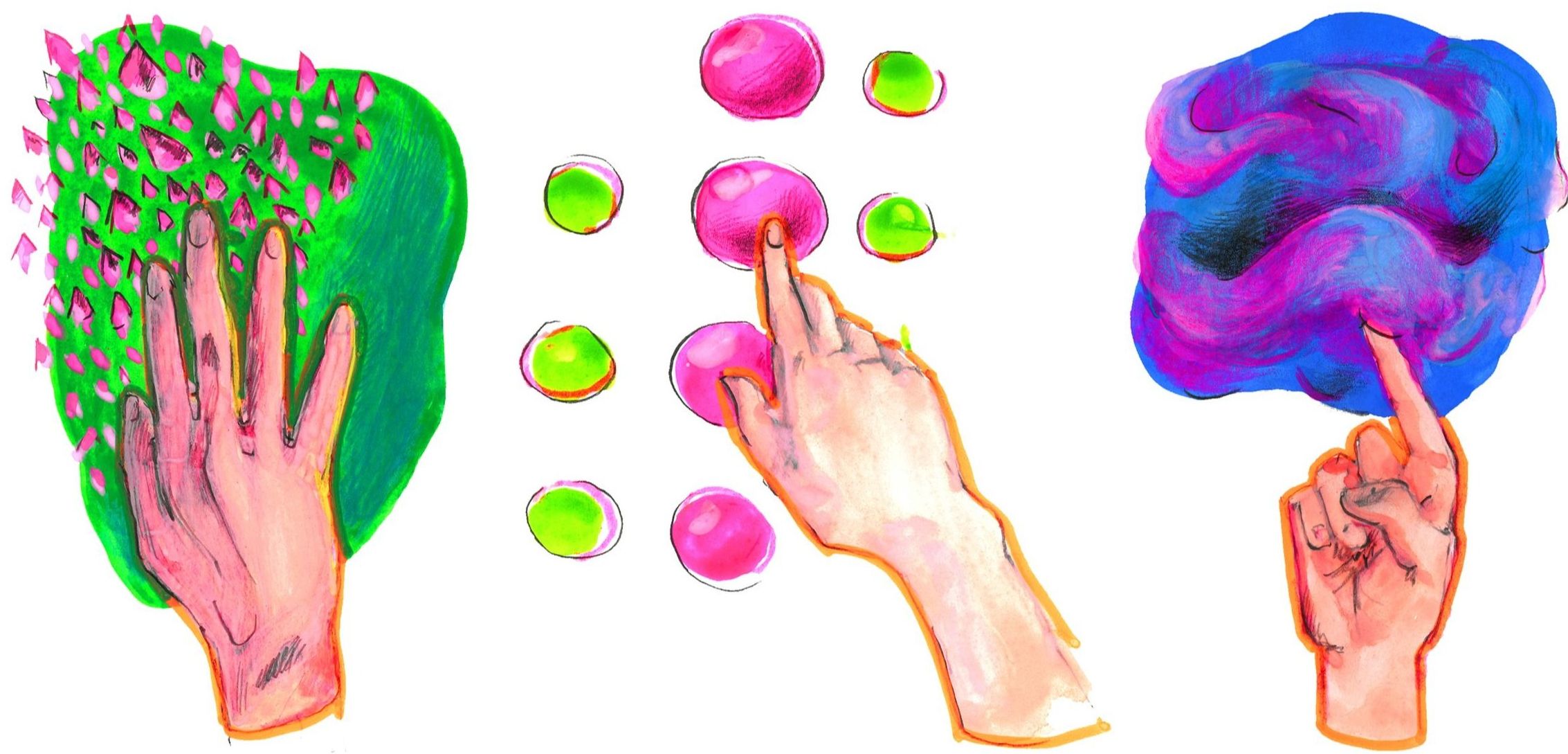 We want your visit to the Sensory Experience Room to be comfortable and enjoyable, and have developed a few guidelines for this:
Please leave your personal belongings and shoes in a locker in the waiting area. To make you feel more comfortable during your visit to the Room, we recommend that you bring along and wear extra socks.
We also ask that you leave your mobile phone in the locker along with your other belongings, or simply don't use it during your visit.
Please do not apply strong scents before visiting the Room.
Entrance to the Room is organised in groups of three at five-minute intervals. Your maximum waiting time won't exceed 10 minutes.
Due to COVID-19 related restrictions, children under 14 years of age can only visit if accompanied by an adult — a parent or guardian who can present their QR code and passport). Only one child may pass with one adult.
Smells and lighting in the Room can change unpredictably; some objects make loud sounds. Visitors highly reactive to sensory perception may need the protective items they use in their everyday life: dark glasses, earplugs, headphones or clothing with a hood.
A sensory load map is available from the Room administrator
In case of sensory overload, you can use the Quiet Room. It is located on the -1 floor to the right of the cloakroom.
Opening hours:
Daily, 10:00-20:00
Technical break: 15:00-16:00
Sessions start every hour
Project participants
Playtronica is a creative studio focusing on interdisciplinary practices and exploring new types of human interaction with the world around us and, more specifically, technologies. Playtronica projects have been exhibited in many museums in Russia and around the world.
Anton Dorso is a linguist, a psychologist and synaesthesia researcher who heads the synaesthesia research group at the Centre for Multidisciplinary Research of Contemporary Childhood of the Moscow State University of Psychology and Education. Founder and Scientific Coordinator of the Russian Synaesthesia Community and a founding board member of the International Association of Synaesthetes, Artists and Scientists (IASAS).
Anna She is a clinical art therapist and an artist whose research interests include body consciousness. She has worked on a number of international programmes and studies on the therapeutic impact of artistic practices and environments on people and communities. She heads the SAMO/SELF art therapy studio.
Marina Shapiro is a psychologist, neuropsychologist and specialist in body-oriented practices who heads the Psychological Service at the Territory of Speech speech therapy centre. She is also clinical director of the Humpty Dumpty sensorimotor hall (Moscow, 2019). She conducts sensorimotor classes for children with special needs and play therapy classes.
Anton Varlamov is a neurobiologist and holds a Candidate degree in Biological Sciences. He is head of the Laboratory of cognitive and linguistic research of the Pushkin Russian Language Institute and Deputy Head of scientific work at the Our Sunny World centre for rehabilitation of disabled children. He is author of more than 60 scientific publications.
Elizaveta Moskvina is an architect, artist and production designer in film projects. She studied at the Moscow Architectural Institute and the Potsdam School of Architecture (Germany). She works at the interface between artistic production and architecture, creating spaces for immersive experience.
Maria Golovina is a perfumer, olfactory artist and perfume journalist. Author of commercial and artistic projects related to scent, she is the perfumer of the Holynose brand.
Pavel Nikandrov is an olfactory artist, founder and chief visionary officer of the Holynose brand. He is also a graphic and industrial designer.
The project also involved
Vasilisa Bikeeva is an architect and photographer. In her practice, she explores imagery and approaches design and construction as a quest for integrity and balance.
Nastia Cherepenkina is an architect, an exhibition designer and an artist. She has worked for the Asse Architects and is particularly interested in the reconstruction of buildings, especially their transformation into museum and cultural spaces.
Aleksandr Vasilenko is an artist and a composer. Sound designer at Endel. He explores modern possibilities of working with sound using machine learning.
Dmitry Sokolov is an artist and a creative developer. Co-founder and technical director of the Moscow-based community of artists Varenje Organizm.
Alexey Kokhanov is a vocalist, performer and composer. Member of Natalia Pshenichnikova's La Gol Voice Theatre and a guest soloist at the Stanislavsky Electrotheatre.
Technician: Mariam Ismailova
Producer: Stasya Dementieva
Implementation of the architectural concept: Inside Art
Special thanks:
Kostya Antonov
Victor Glazunov
Natalya Goryunova
Alexander Moskvin
Antonina Steinberg
Maria Stikharova
Igor Fedotov
Aleksandr Chistov

The project is expertly supported by Journey Through the Senses (JTTS), an international non-profit educational initiative