An attempt to return the local children's activity circle to their original rationale and purpose in partnership with four Moscow houses of culture and cultural centres.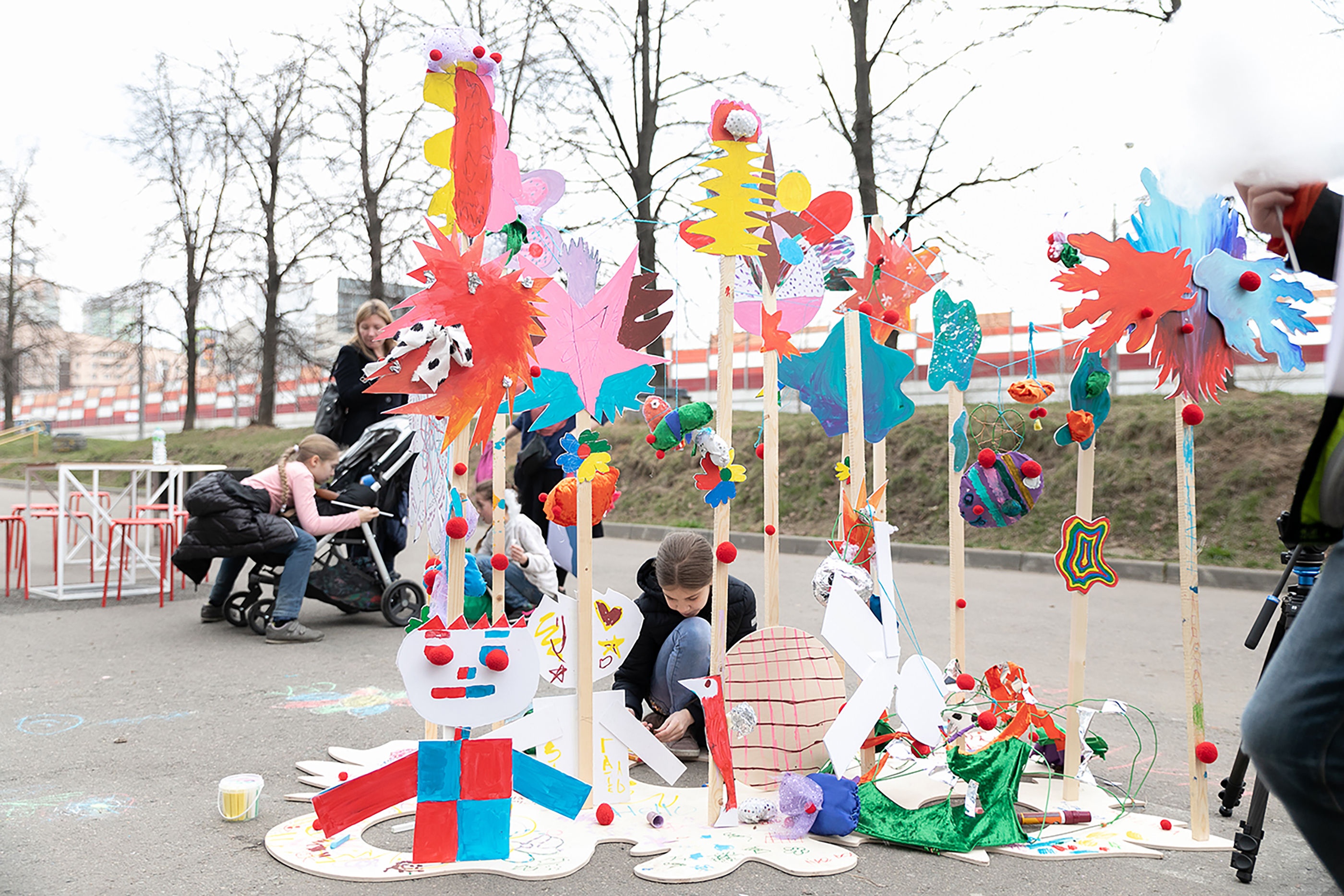 Public learning and activity clubs, or, as they are called in Russia, circles (from "кружки" — "small circles"), spread throughout Russia in the 1920s. Initially, they gathered non-professionals of different ages united by a common interest in some cultural or other practice: they held regular classes, exchanged experiences, organized exhibitions, productions and other collective events. In the following decades, circles became part of a conservative cultural system, and teaching methods became monotonous and boring.
The mission of the project is to create a free setting for local circles in which creative potential can be fostered. In Weird Circles classes for kids and teenagers from four Moscow neighborhoods are conducted by artists, playwrights, composers, choreographers who prefer a horizontal, rather than hierarchical way of communicating with participants and who propose cooperation in a creative laboratory, unconstrained by genre and other frameworks.
Weird circles

Khoroshyovo-Mnyovniki. Berendey house of culture

The Art of Transformation
Age of participants: 8+
Author and Presenter:
Masha Somik, artist, graduate of the Stroganov Moscow State Art Academy; also graduated from Camberwell College of Arts (London) with a master's degree in fine arts.
The focus of attention is on human interaction with the surrounding space, materials and sites. Participants discover new possibilities of such interaction — for example, when a flat picture suddenly becomes three-dimensional and turns into an installation, relief, or sculpture. The result of their joint work is a large-scale installation, an exhibition and our own fanzine.

The Laboratory of Impermanence
Age of participants: 8+
Authors and presenters:
Tatiana Chizhikova, choreographer, performer.
Alexei Kokhanov specialist on work with voice, performer, composer.
The presenters together with the participants explore the phenomenon of time, using movement (body) and sound (voice). It is an attempt to express freely through voice and movements the emotions that don't fit into the traditional understanding of aesthetics. The result is a performance dedicated to the interaction of the body and voice in time and space.

Yasenevo. Inspiration cultural centre

Spatial Practices
Age of participants: 12+
Authors and presenters:
Polina Bakhtina, theatre artist, set designer, curator of the Scenography course at the Higher British School of Design. The creator of the installation of the Russian Pavilion and the winner of the Gold Medal at Prague Quadriennale, 2015 (co-authored with Jan Kalnberzin). Winner of the Breakthrough award of the Best Theater Artist prize (2013).
Maria Zaytseva, artist, architect, participant of numerous theatre projects in Moscow and St. Petersburg.
Participants are invited to use scenography and other artistic disciplines to look at space design in a completely new way, to experiment with materials and ways of conveying information, and to freely combine different artistic practices and modes of expression. They work not on paper or on a computer, but on the scale of an auditorium and then of an entire building.

Novogireyevo, MosArt cultural centre

The Heinous Circle of Monstrousity
Age of participants: 13+
Authors and presenters:
Katia Volkova and Natasha Zhukova, a tandem of contemporary choreographers who combine different body and dance practices, and work in various genres — site-specific art, public interventions, performances in museum and theatrical venues.
If we consider a monster as an extreme form of the "other", it turns out that the world is full of monsters: each of us is one in the eyes of others. The participants are encouraged to take advantage of this discovery and practice monstrousity. Each session consists of exercises and talks, during which the teenagers discover the ugly and magical facets of monstrousity. They explore the possibilities of communication with the "other". They learn to see fragments of the monstrous in a person, the environment, and in things, and find out what it is like to exchange bodies for objects, borrow their shape, and imbue them with one's own capacities. Finally, the presenters bring together various monstrous practices to create a performance bestiary.

Amateur Sound Electronics
Age of participants: 12+
Author and presenter:
Oleg Makarov, composer, sound and media artist, developer of interactive hardware and software systems and tools, teacher at Rodchenko School (the Introduction to Sound course).
The circle proposes transforming a common consumerist attitude to music and starting to produce musical objects singlehandedly. Having gained an understanding of the physical and electromechanical nature of the origin and dissemination of sound, participants then proceed to work with electronic circuits, electrical networks, connections, and sound amplification. By the end or the course, they are expected to build their own audio synthesizer.

Indie Choir
Age of participants: 14+
Authors and presenters:
Vladimir Gorlinsky, composer, teacher at the Department of Contemporary Music of Moscow Conservatory, presenter of improvisation techniques.
Mikhail Durnenkov, playwright, screenwriter, teacher, participant of the New Drama movement.
The participants of the choir get acquainted with modern drama and musical composition and discover that these disciplines have similar laws: a resounding word is also a sound, and a text can become music. After learning how to transform and express emotions freely through text and sound, they can create a collective work at the end of the course.

Liublino. Astakhov cultural centre

Dance Portrait
Age of participants: 12+
Authors and presenters:
Yana Isaenko, documentary director.
Tarik Burnashev, dancer, choreographer, one of the founders of the PoV.S.Tanzy dance company. Founder of the Ohne Zucker project nominated for the Golden Mask award in 2009.
The presenters help the participants to focus on their own individuality, observe their own body and peculiarities of their movements, and grasp the plasticity of everyday life. The next step is to learn how to express the poetry of the surrounding world in short videos shot on a smartphone and then to edit them using various techniques.