27 Apr–30 Jul 2023
The project brings together two groups of artists from different generations. These artists address archives and their roles in the life of society, methods of chronicling real and imaginary events, digital and analogue information, the life cycles of information units, and why one-off occurrences leave traces that remain forever.
The exhibition begins with an impressive body of artefacts from Cloud Commission that chronicle the association's history from its foundation in 1992 to the present day. The Commission was a semi-facetious, semi-conceptual association, which took its name from a meteorology textbook published in 1930.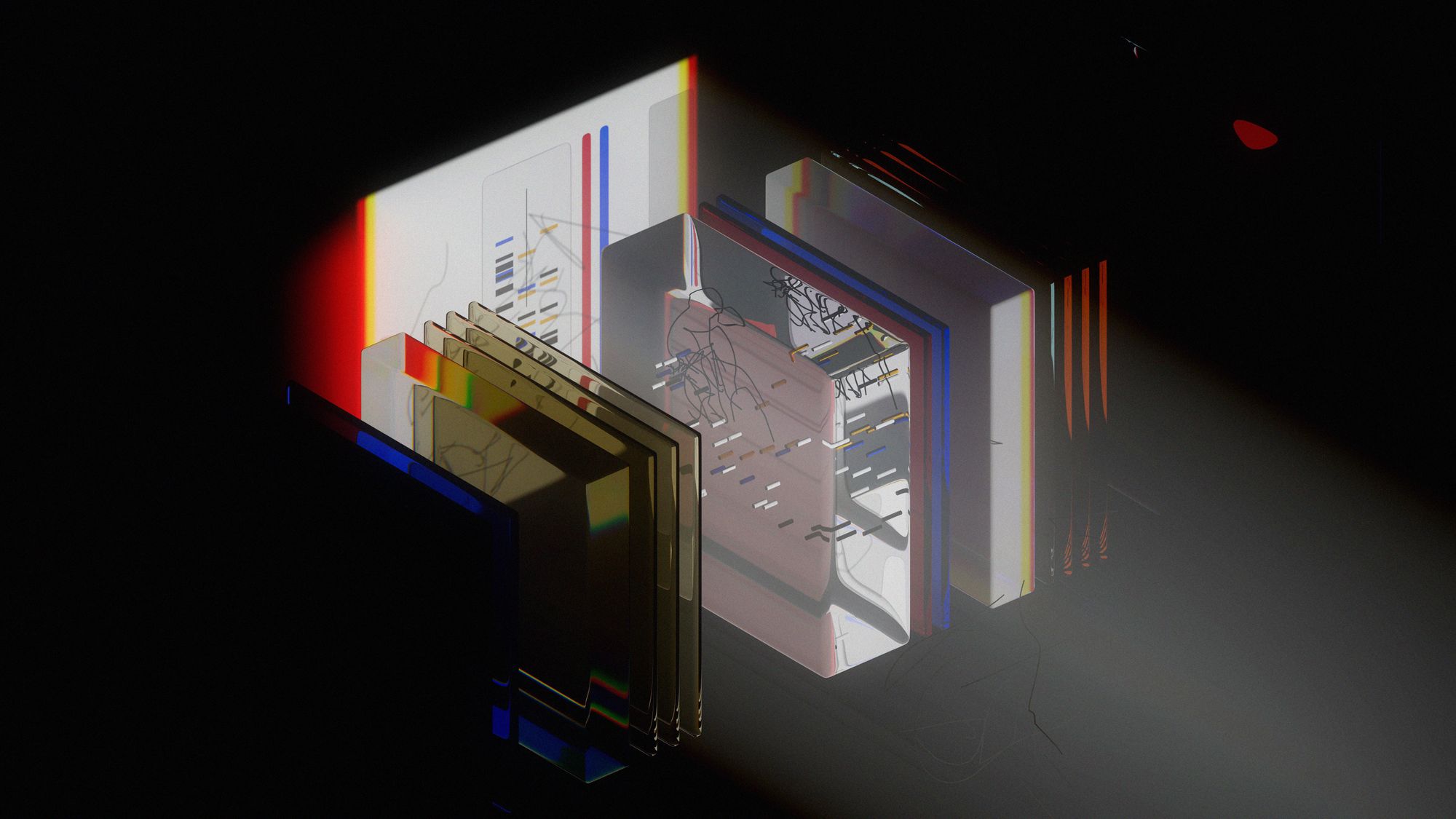 The group and its founder were guided by one principle: Cloud Commission treats imaginary events just as seriously as real ones. Works from various years show scenes from genuine and fictional Soviet films, recount real and unreal events and tell the stories of unexpected meetings—though not always between humans. Surrealism is mixed with a subtle and even tender mockery of Soviet romanticism, now a thing of the past.
Cloud Commission was founded in 1992 by Arkady Nasonov (b. 1969) and Dmitry Ligeiros (b. 1970) The name of the art group comes from A Guide for Determining Cloud Forms, published by the Head Geophysical Observatory in Leningrad in 1930. Members of the Сommission were asked to register, obtain membership cards, and fill out forms: bureaucratic language was intentionally taken to absurd extremes. Over time, the association was joined by over a hundred "registered observers", including Vladislav Mamyshev-Monroe, Olga Chernysheva, Pavel Pepperstein and many others.
Arkady Nasonov, a graduate of the Moscow Art Theatre School, has always played an important role in the commission. With his fondness for synthetic artistic solutions, Nasonov's works feature an interaction between performances, installations, paintings, drawings, and texts, and create a complete artistic image. Motifs from works of popular science, Soviet films, old magazines, and various manuals and guides appear in his work. By organically combining these heterogeneous elements from the cultural space of the Soviet person, the artist creates an existential collage that brings together the rigour of the scientific approach, officialese, and an uninhibited stream of consciousness.
Polina Abina (b. 2001) and Alexei Sebyakin (b. 1989) record their chronicle of human acts in digital format. While in the real, analogue world every act took place in linear time, and the tendency was for things to end or be forgotten, in the digital world they are preserved once and for all. For every act that a person performs, memory and information about it will be preserved eternally, often in the public domain. The artists interpret digital archives as a report on the deeds of everyone living.
The works by Abina and Sebyakin exist simultaneously in two formats—video and virtual reality. In this imaginary world, viewers can watch the life cycle of a unit of information using a VR headset. Gradually, this unit transforms into an almost biomorphic being, and its habitat begins to resemble the familiar and comprehensible physical world. The video traces of this evolution are fragmentary and may at first glance seem unconvincing.
The authors' approach to archiving events—genuine and imaginary, past and present, physical and illusory—makes use of various methods of working with facts and recording them. All the duo's artistic experiments have one thing in common: reports on events can be equated with the events themselves, which cannot be forgotten, even if they never actually took place.
The artists Polina Abina and Alexei Sebyakin work with virtual spaces, meta-universes, digital archives, neural networks—in other words, with the space that lies on the other side of the screen and within virtual reality glasses. In their Spatial gallery and meta-universe, the duo regularly hold personal exhibitions and shows by other artists that investigate how digital reality influences the physical world. The artists are not only interested in the Internet as a phenomenon, but in the social problems and utopian pictures of the future that it provides.
The title of their new work Alles habt ihr gut gemacht / Und die liebe Sonne lacht (You have done everything well, and the dear sun laughs) (2023), made especially for the Cloud Storage exhibition, comes from the last lines of a poem written by Albert Einstein in 1929 to thank his colleagues at the International Committee for Intellectual Cooperation (the future UNESCO) for an evening in celebration of his 50th birthday.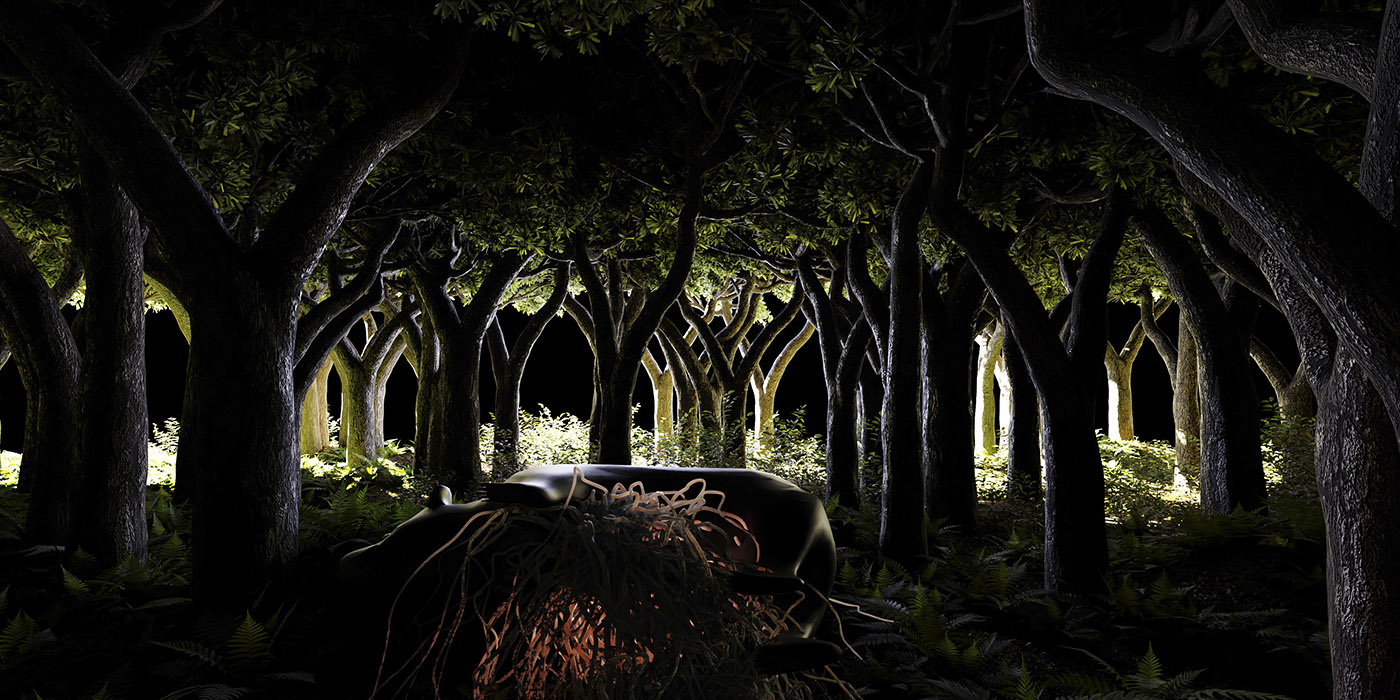 The artists invite viewers on a virtual journey to a hypothetical world of fragments of information that will live forever, according to the Sebyakin-Abina hypothesis. Their life cycle becomes a kind of parallel to human life—with a single difference that comes at the end: they come into being, are reproduced in the digital environment, and then become immortal.
The immortality of digital knowledge leads to the idea that every action has weight—it is set down in computer annals forever. This registration of karmic debt, in its turn, presupposes the non-linearity of time in the digital space (unlike the physical space). Whatever you do there will remain on view until the end of time; responsibility does not end with the expiry date. The utter endlessness of human actions is recorded in digital eternity, which, in theory, ought to make us approach our own existence more thoughtfully, take decisions with more care, and be very attentive in how we treat ourselves and others.
Such a philosophy of behaviour is utopian, of course. An element of utopia is contained in the virtual journey itself, which despite its convincing execution remains just a mirage, a hypothesis, even if it does have an evidential basis. We already understand that digital archives will exist for an endlessly long time, but the "karmic" implications of the fact will never be fully studied, or rather fully accepted. If this were not so, the world would be a very different place.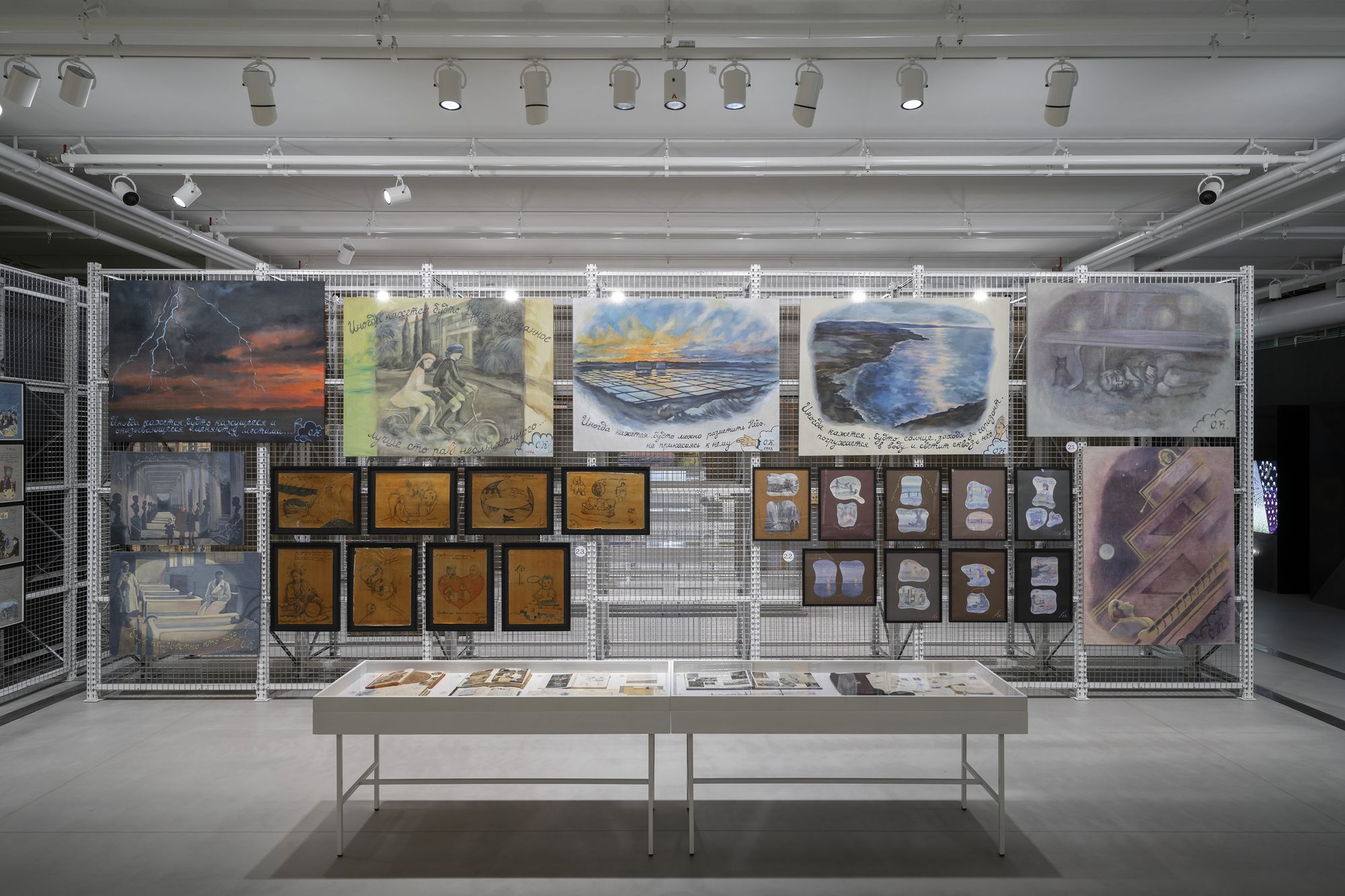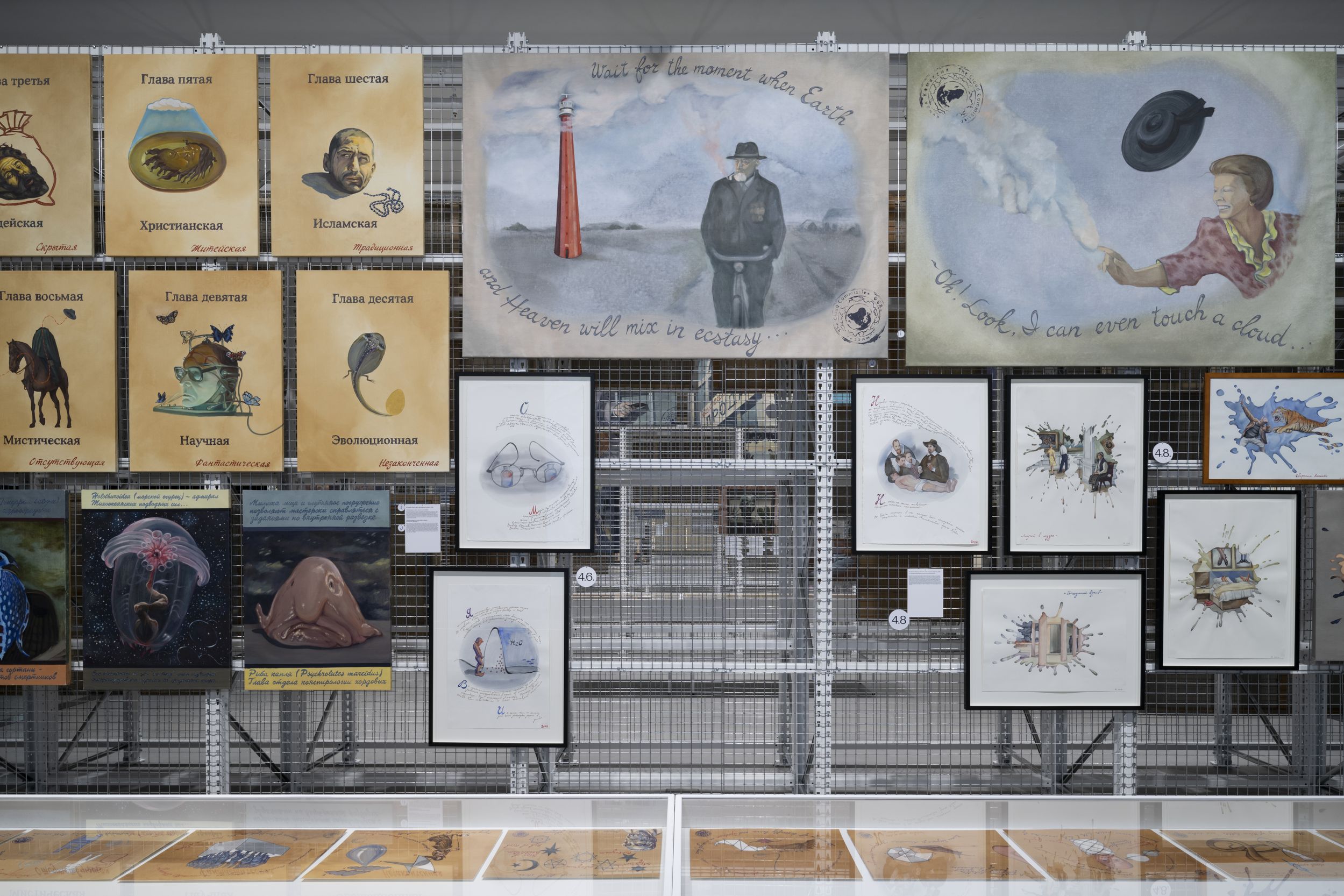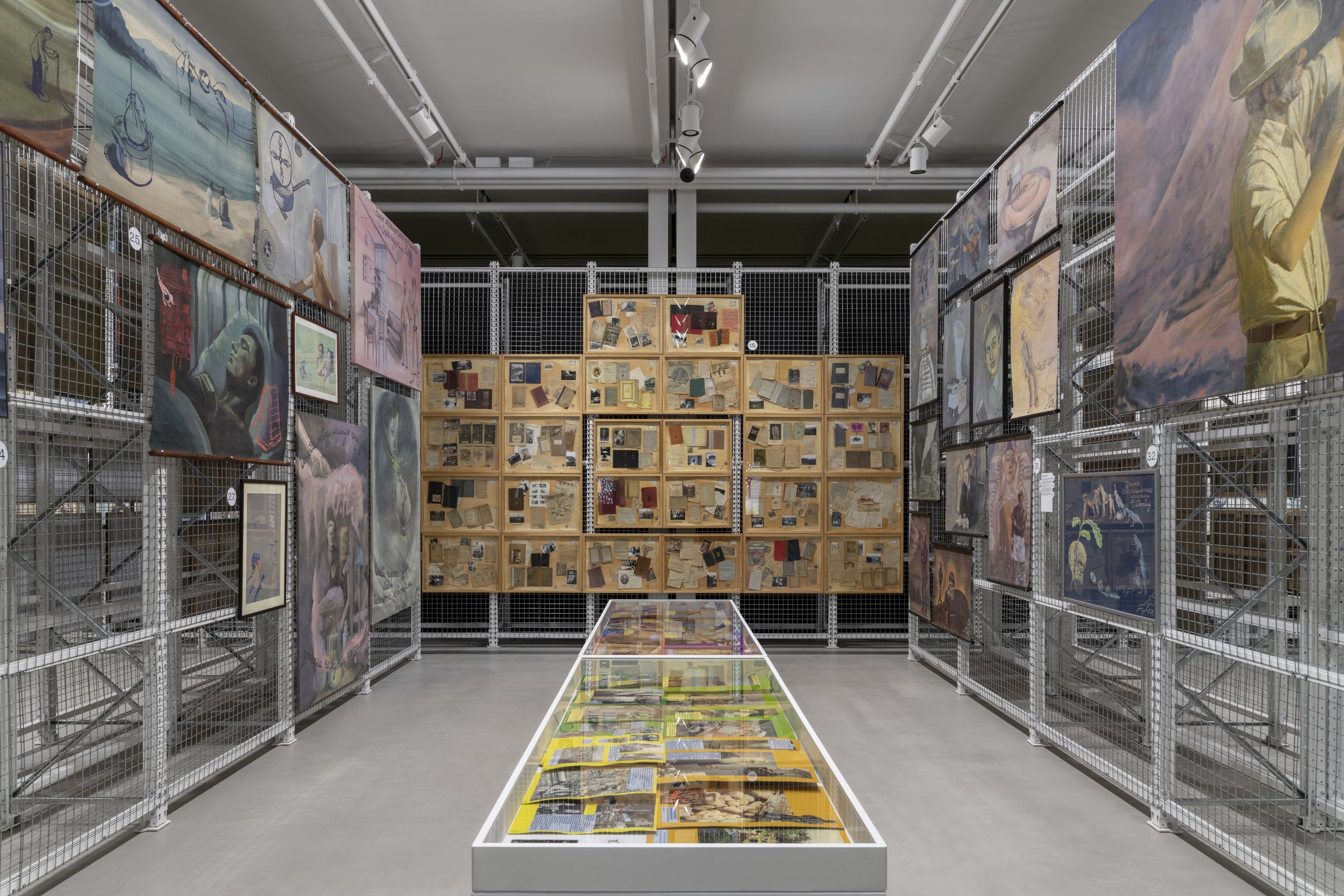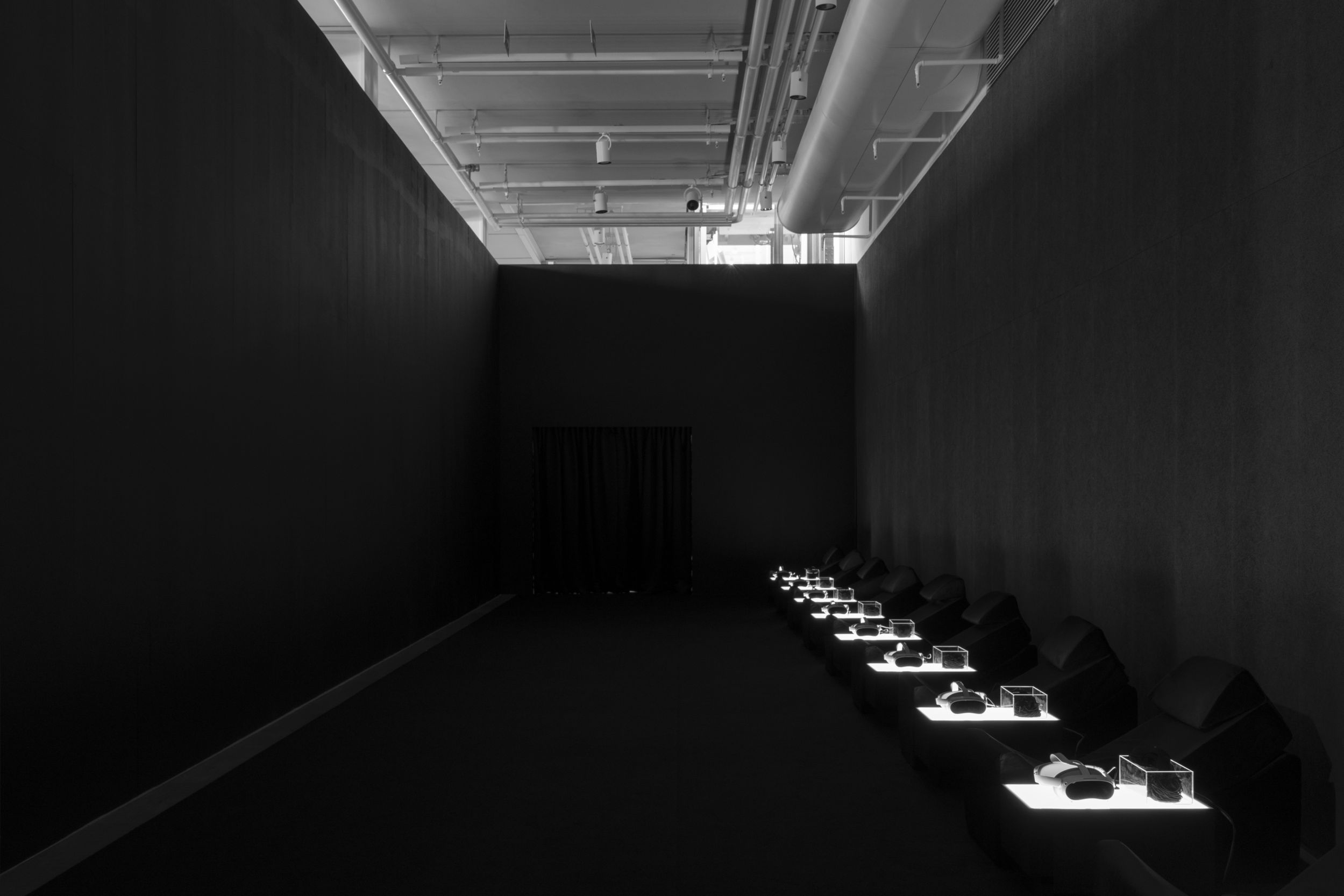 All photos: Daniil Annenkov
Curators
Anna Ilchenko, Andrey Parshikov
Artists
Arkady Nasonov and the Cloud Commission group, Polina Abina and Alexey Sebyakin
Project team
Architect
Sasha Kim
Producers
Alisa Kekelidze, Dmitry Ryabkov
Technical production
Aleksandr Dolmatov, Artem Kanifatov, Pavel Luzhin
Registrars
Daria Krivtsova, Sofiya Lazareva
Accessibility and inclusion curators
Sasha Anikushin, Vlad Kolesnikov, Oxana Osadchaya
The exhibition is organised in collaboration with
Arkady Nasonov, Russia art group (Ivan Dmitriev), Pogodina Gallery, Iragul Gallery
The exhibition includes works from private collections owned by
Inga Legasova, Evgeny Semyonov, Maxim Tikhomirov, Alexander Vinogradov and others