A project by Mikhail Maksimov that invites the public to engage with a machine that generates emotions and desires—and to feel like a demiurge.
The exhibition Sorcerers shows how different artists work with dark folklore. They are all intrigued by various aspects of the fantastic, supernatural and horrific, as manifested in history, local mythology, Soviet folklore, and digital reality. Although it may seem at first glance that sculptures of wood spirits and references to 1980s children's films have nothing to do with modern nightmares, the project helps to focus our perception.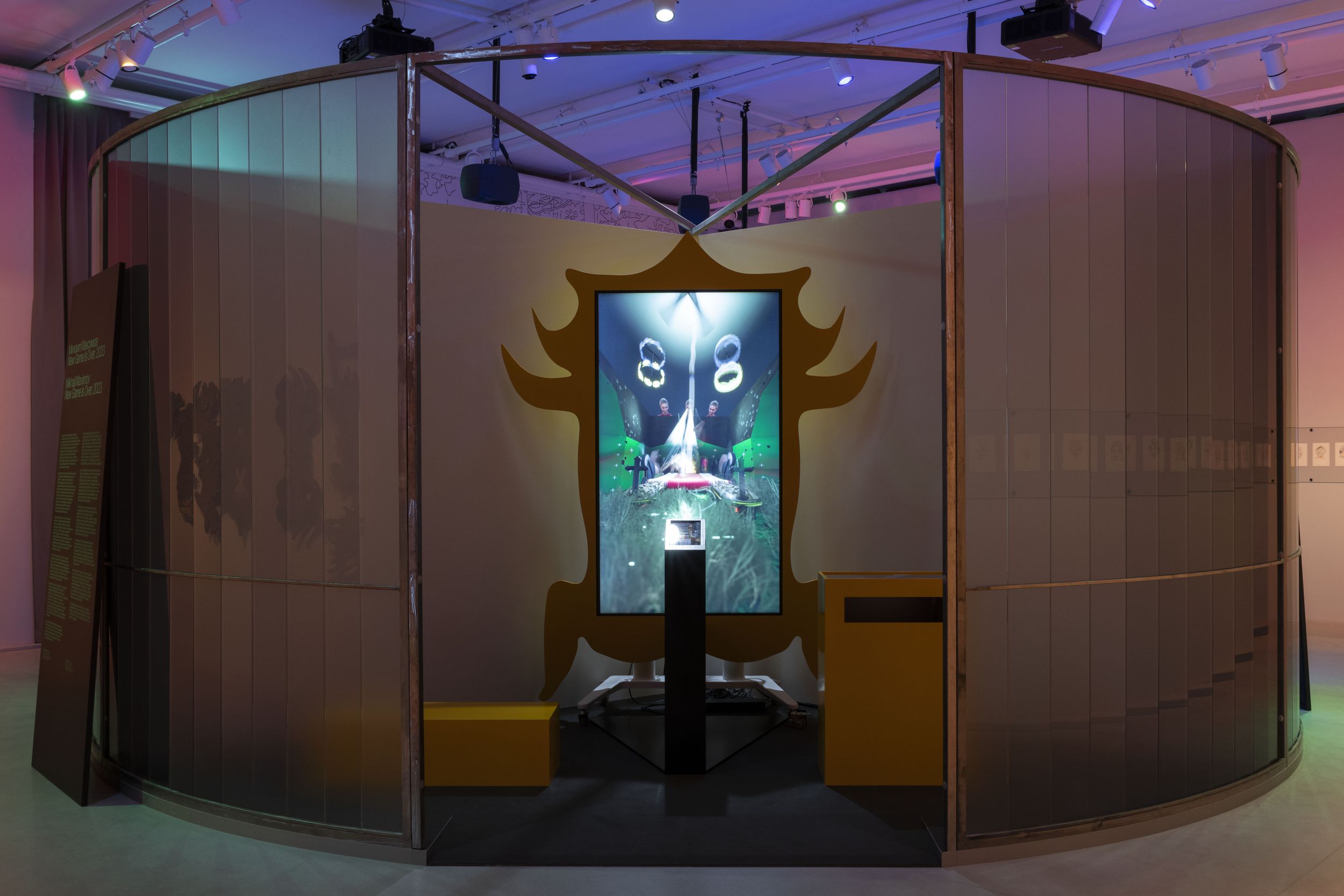 The artist Mikhail Maximov skillfully combines new media with archaic theories and inanimate characters with mythological subjects. The artist's video works, installations and games are always based on eschatological concepts and the clashes of mythological forms with technocratic dystopias. Maximov's art—nervous, pessimistic and to a certain extent chthonic—rather accurately describes the general planetary mood today, using imaginary simulations as hypotheses about the possible developments.
New Game Is Over invites the public to engage with a machine that generates emotions and desires. Using this machine, the player takes on the role of a demiurge, capable of creating, preserving and destroying self-sustainable systems. The player has the power to select which event chains to release, imbuing items with new, unusual qualities, surrendering to emotions, mastering them, or even destroying the game itself.
The three parts of the project examine creation and development, restraining and destroying systems. Whether this is ecstasy or melancholy, the proposed emotions and states determine the choice, responsibility, consequences and player's influence on the game world, which features a dark interface characteristic of the artist, and a lofty sense of hopelessness.
Marionettes in the hands of the creator, shooting axes, modern methods for recording and transferring information, the bell of fate, anxiety, the spirit world, a utopia with flying doves, the three Graces, and artificial intelligence—this is far from a full list of what the player can expect in this game, which has ceased to be self-regulating and now requires manual control to restore or intensify functions, features, events and emotions. Combining Brueghelian demonology, a futuristic dystopia and the circus aesthetics of the early 20th century, the artist creates an original universe.
Previously, Mikhail Maximov has taken part in the Venice Biennale of Аrchitecture, created a game about the founder of the Multimedia Art Museum Moscow Olga Sviblova, and launched the Auropa project at the Riga Biennial, which everyone could use at home, by placing a special order. He also created Disposition for a Large Laser Beam Machine featuring a work by Andy Warhol from the V–A–C collection, and created a mobile ASMR app which involved stroking maggots.